Homes in Castle Pines, Colorado
The Canyons and Castle Valley are the two newest neighborhoods in the Castle Pines community, and the lifestyle and amenities just seem to get better and better with each new development. These are simply among the best places to live in Colorado.

The Canyons at Castle Pines is an exciting new neighborhood at this exclusive community in Douglas County. It's a place that reminds you that you're not in the city anymore, yet close enough to enjoy all the benefits of the metropolitan area. The new homes at The Canyons showcase extraordinary craftsmanship in a variety of styles in an area featuring parks, open space, a swimming pool, trails, and resort-style amenities that are among the best in the west. The vistas at The Canyons are incredible, and when you cross the covered bridge into this neighborhood, you leave the hustle and bustle of the city behind you.
List of Zipcodes
| Zip Code | Zip Code Name | Zip Code Population |
| --- | --- | --- |
| 80108 | Castle Pines | 30,595 |
Demographics
| | Zip Code | City | County | State | National |
| --- | --- | --- | --- | --- | --- |
| Population | 4,270 | 30,595 | 351,154 | 5,759,582 | 331,426,769 |
| Population Density | 49.4 | 860.0 | 1,167.0 | 55.5 | 93.8 |
| Percent Male | 49.0% | 50.0% | 50.0% | 49.0% | 49.0% |
| Percent Female | 51.0% | 50.0% | 50.0% | 51.0% | 51.0% |
| Median Age | 50.8 | 43.2 | 41.0 | 40.2 | 39.0 |
| People per Household | 2.6 | 2.9 | 2.9 | 2.8 | 2.6 |
| Median Household Income | $106,904 | $138,202 | $114,156 | $115,942 | $61,963 |
| Average Income per Capital | $52,013 | $63,065 | $61,155 | $50,725 | $33,235 |
Market Data
| | Zip Code | City | County | State | National |
| --- | --- | --- | --- | --- | --- |
| Median Sale Price | $725,000 | $710,000 | $550,500 | $425,100 | $277,796 |
| Median Age of Home | 37.0 | 28.0 | 33.0 | 39.0 | 49.0 |
| Homes Owned | 86.0% | 76.0% | 77.0% | 67.0% | 58.0% |
| Homes Rented | 10.0% | 19.0% | 18.0% | 23.0% | 31.0% |
| Homes Vacant | 5.0% | 5.0% | 4.0% | 4.0% | 11.0% |
Market Trend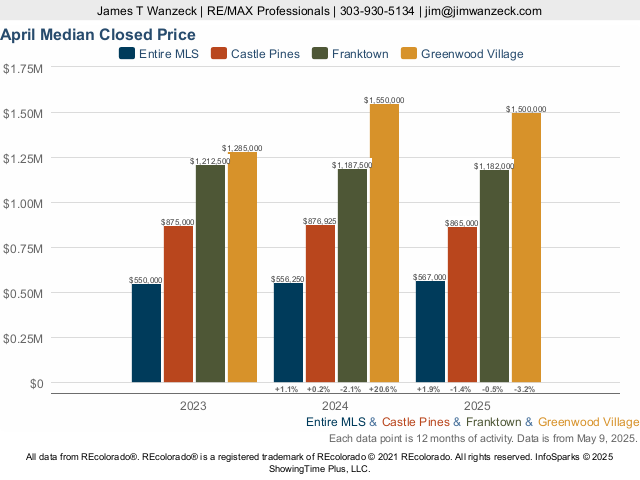 43 properties on market
Contact Us
RE/MAX Professionals
6020 Greenwood Plaza Blvd #100
Greenwood Village, CO 80111, USA
Valuation Index
Quality of Life - 90%
Climate & Environment - 75%
Schools & Education - 73%
Safety & Crime - 17%
Quality of Life
| | Zip Code | City | County | State | National |
| --- | --- | --- | --- | --- | --- |
| Cost of Living Index | 110.0 | 124.0 | 116.0 | 110.0 | 100.0 |
| Health Cost Index | 121.0 | 132.0 | 124.0 | 119.0 | 100.0 |
| Commute Time | 25.0 | 25.0 | 27.0 | 25.0 | 24.8 |
| Commuting by Bus | 0% | 0% | 2.0% | 1.2% | 2.1% |
| Commuting by Carpool | 7.0% | 11.0% | 8.0% | 11.0% | 13.5% |
| Commuting by Auto | 76.0% | 79.0% | 83.0% | 80.0% | 79.1% |
| Working at Home | 16.0% | 10.0% | 7.0% | 5.2% | 4.7% |
Walk Score®
Climate & Environment
| | Zip Code | City | County | State | National |
| --- | --- | --- | --- | --- | --- |
| January Average Low Temperature | 13.6 °F | 13.7 °F | 15.9 °F | 13.7 °F | 22.6 °F |
| July Average High Temperature | 84.0 °F | 84.0 °F | 89.5 °F | 77.5 °F | 86.1 °F |
| Annual Precipitation (inch) | 17 in. | 17 in. | 18 in. | 19 in. | 38 in. |
Schools & Education
Safety & Crime
Zip Code
City
County
State
National

Violent Crimes

Calculated annually per 100,000 residents

Assault
162.9
179.9
69.5
246.3
250.2
Murder
2.2
2.2
2.2
3.8
5.0
Rape
70.4
68.4
33.6
67.2
42.6
Robbery
123.3
48.6
19.2
63.6
81.6

Property Crimes

Calculated annually per 100,000 residents

Burglary
223.7
178.9
230.1
348.4
340.5
Theft
360.4
254.1
1,794.6
1,858.3
1,549.5
Motor Vehicle Theft
603.0
602.1
88.7
384.0
219.9
Take a photo of this QR code
to keep this website details